Testing of cats: Feline Blood Typing Quick Test Kit
Usual turnaround time: 3 business days
1 test price: 28.00 $ without VAT
Quick Test Kit - Feline Blood Typing Quick Test Kit
We don´t despatch the Quick Test Kit outside of European Union.
In cats three serological blood group types are known - group A, B and rare group AB. Group A is the most common - breeds that have A group only: Siamese cats, Burmese cats, Russian Blue cats, Ocicat and Oriental Shorthair cats (source Leslie A Lyons). Breeds with more frequent occurrence of B blood group: British Shorthair cats, Cornish Rex and Devon Rex. The occurrence of blood group AB is below 1%. Geographical differences in the incidence of blood groups in cat breeds have been described as well.
The knowledge of blood types in cats is important, if a blood transfusion is necessary (possible transfusion reaction) and in case of neonatal isoerythrolysis in new born kittens.
The Quick Test of blood type is based on the reaction of anti-glycophorin with the monoclonal antibodies that are specific for feline antigens A and B.
The Quick Test duration is only 2 minutes.
We send the kits by registered post. Postage fee 8 Eur. Payment by paypal service or by bank transfer.
Instructions for use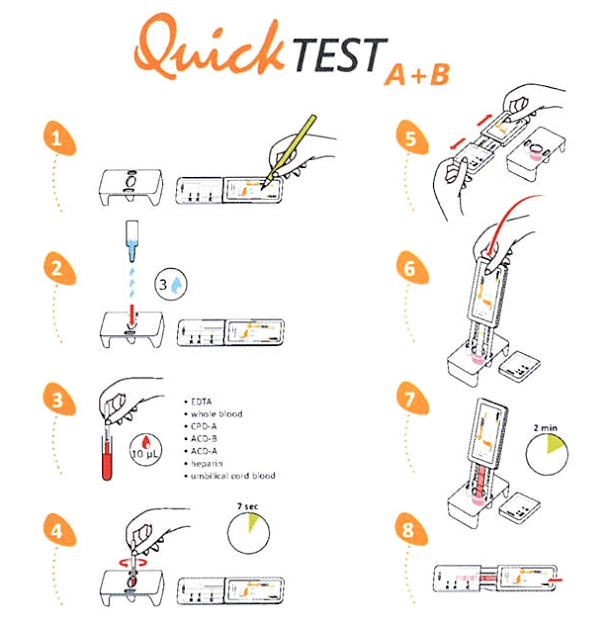 .
Result evaluation
One red line on the membrane near the letter "A" => the cat has blood type A

One red line on the membrane near the letter "B" => the cat has blood type B

Two red lines on the membrane, one line in the front part, near the letter "A" and the second line near the letter "B" => the cat blood type is AB

The letter "C" on the cover - it is a check line and must be on the membrane top side. The red line near the letter "C" MUST ALWAYS OCCUR during the testing. It guarantees that the test was done correctly.
.
Content of the kit
Measuring card with a membrane
Diluting puffer
Dosing strip
Instructions
Spare mixing chambers
Identification cards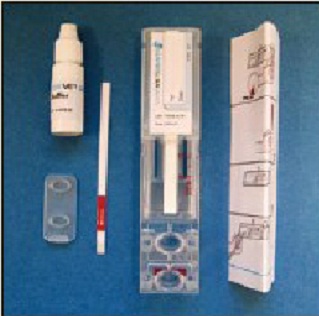 .
After test completion, the chambers with blood are broken off and the measuring card can be filed. Each test kit contains identification cards for the owner of the animal and for the veterinarian to record information about the blood typing performed.
.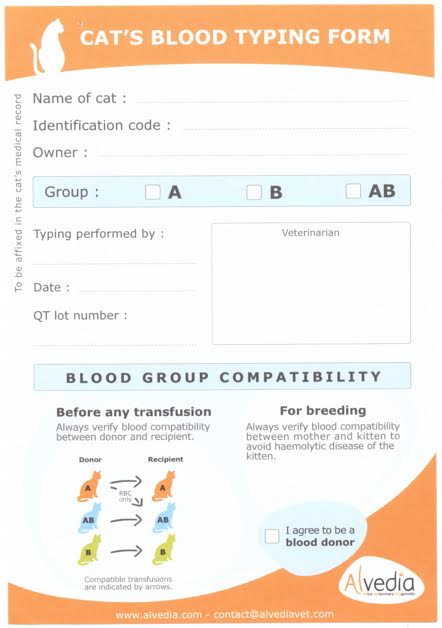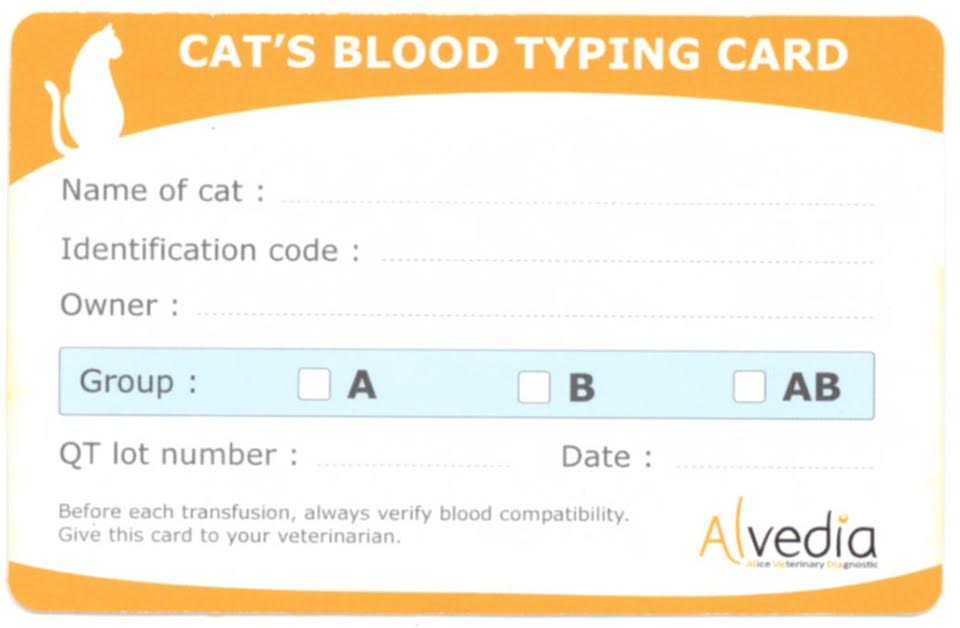 .
Reference:
Testy - krevní skupiny: ALVEDIA-BLOOD TYPING KIT. [online]. [cit. 2013-12-03]. Dostupné z: http://www.labtechnik.cz
Alvedia: Alice Veterinary Diagnostic. [online]. [cit. 2013-12-03]. Dostupné z:http://www.alvedia.com/
Breed list
Usual turnaround time: 3 business days
1 test price: 28.00 $ without VAT