Dobermann
Dobermann
Dobermann is a German breed having name of the first well-known breeder Friedrich Louis Dobermann. This breeder was interested specially in high fearless dogs, called "butcher dogs". Butcher dogs were very important during the whole process, when Dobermann was created. Butcher dogs were also a predecessors of present rottweilers mixed with shepherds; they were kept in Thuringia (part of Germany). From these breeds F.L.Dobermann created present Dobermann breed in 70 years of 19th century. Dobermas are mainly used as police or yard dogs. Breeders are focused on breeding medium size, forceful and sturdy individuals, who exhibit an elegant and noble lines. Doberman is suitable as an escort, defensive or police dog, as well as an family dog.
.
Genetics of Dobermann coat colour
Examining Dobermanns, we can recognise interesting combination of coat colours. General colouring can be black, brown, blue or isabella in combination with tan. The colour of nose can be black or brown. All Dobermanns have E/E genotype in MC1R gene (locus E) and at/at genotype in ASIP gene (locus A). Following colouring influence locus B and locus D.
.
Example of black coat: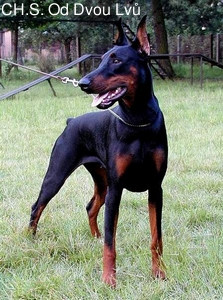 .
Example of brown coat: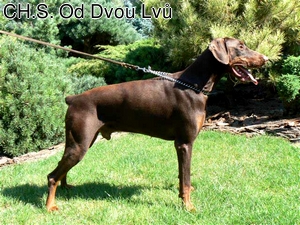 .
Example of blue coat: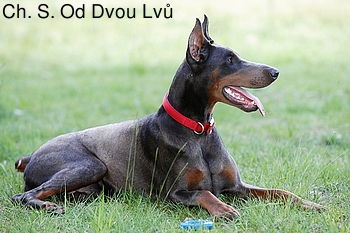 .
| | | |
| --- | --- | --- |
| Genotype | Coat color / Nose color | Transmission of coat color |
| BBDD | black with tan / black | - |
| BbDD | black with tan / black | brown |
| BBDd | black with tan / black | dilution |
| BbDd | black with tan / black | brown, dilution |
| bbDD | red with tan / brown | - |
| bbDd | red with tan / brown | dilution |
| BBdd | blue with tan / blue | - |
| Bbdd | blue with tan / blue | brown |
| bbdd | Fawn (Isabella) with tan / pale brown | - |