English Cocker Spaniel
English Cocker Spaniel
The ancestors of the English Cocker Spaniels are most probably the old Spanish bird dogs. The difference between setters and spaniels was unclear until 18th century. In England, Spaniels were reportedly used for show purposes and officially they were called setters. The name Cocker appears at the end of 18th century. However, even in that time it was not clear what type of dog falls under this designation. In the mid 19th century, even Cavaliers and King Charles Spaniels and other Spaniel-type dogs, whose weight did not exceed 12 kilograms (as mentioned by Hans Räber, cynologist and book author), were still called Cocker Spaniels. The differentiation started slowly during 19th century, when the Springer Spaniels were separated and they father differentiated into Sussex and Clumber Spaniels. The Cocker Spaniel type was changing at the beginning. They were divided into two basic types: Cob type and Setter type. The compacter and somewhat sturdier Cob type faded away as the time went on. However, today we can see its features in black cockers, while the coloured cockers tend rather to the setter-type.
Former, the Cockers were used rather by hunters, nowadays the range of people interested in Cockers is much wider. You can very often meet this intelligent dog at agility training grounds, obedience trials and many other dog sports. Despite the development to a social and sporting dog, which is obvious in all hunting breeds, its hunting abilities have not become stunted.
.
Genetics of coat colour in English Cocker Spaniels
Cocker Spaniels can be of any of a wide variety of colour and their combinations. The basic colour of the entire fell is black, liver and red (see tables). The nose colour can be black or brown. In addition to the colours mentioned, you can also meet an orange or lemon coloured Cocker Spaniel.
.
1. Black, Black Roan, Black and White, Black with Tan, Black Roan with Tan
| | | |
| --- | --- | --- |
| Genotype | Coat color / Nose color | Transmission of coat color |
| EEBB | black / black | - |
| EeBB | black / black | red |
| EEBb | black / black | liver |
| EeBb | black / black | red, liver |
.
2. Liver, Liver Roan, Liver and White, Liver with Tan, Liver Roan with Tan
| | | |
| --- | --- | --- |
| Genotype | Coat color / Nose color | Transmission of coat color |
| EEbb | liver / brown | - |
| Eebb | liver / brown | red |
.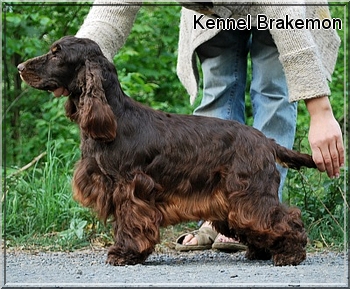 .
3. Red, Red Roan, Red and White, Red with Tan, Red Roan with Tan
| | | |
| --- | --- | --- |
| Genotype | Coat color / Nose color | Transmission of coat color |
| eeBB | red / black | - |
| eeBb | red / black | liver |
| eebb | red / brown | - |
.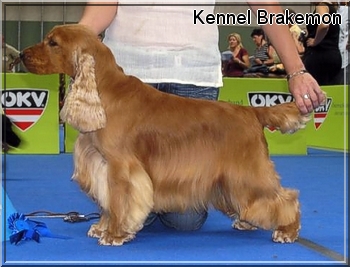 .
Besides the basic solid black, liver and red colours, the Cocker Spaniels can come in roan types of markings. You can imagine the roan as a mixture of white hair with hair of any of the basic colours. A test for roan is not still available. In Cocker Spaniels, the roan can come together with tan markings as well. Here is and example of black roan: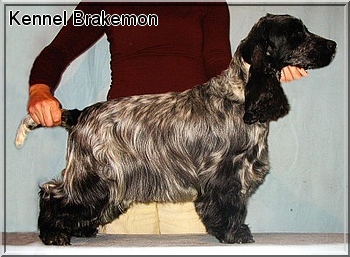 .
Particolour is a combination of solid white areas with areas of basic colour. The areas of white hair can cover from 20 % to 80 % of the whole skin surface. As for solid coloured dogs, the standard allows only a white marking on the chest. Unfortunately, a test for Particolour is also not available yet. Here is an example of white-red cocker: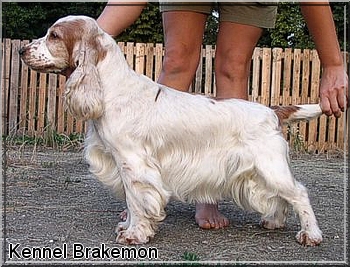 .
Locus A versus Locus K
Presence or carrier of tan marking is caused by ASIP-gene (Locus A), particularly allel at. The allel at is responsible for the phenotypic colour black and tan (tricolor, tan). Locus A is influenced by lokus K. Phenotype can not be shown, if a dog has at least one of this allele KB (dominant black allele).Phenotypic colour black and tan can be shown, if a genotype is ky/ky ,ky/kbror  kbr/kbr
A dog, whose final colour has tan markings, is of genotype atat, and a dog of a genotype aata (heterozygote) is a carrier of bicolour.
Here is an example of liver and tan cocker: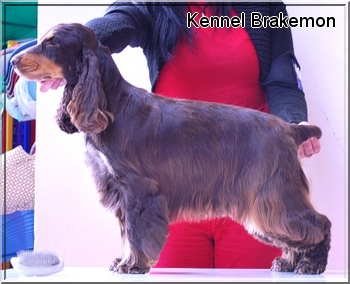 .
We have prepared for you an overview of coat color combinations causing by loci A, E and K. If you are interested in this, please, continue to the overview table.