Yorkshire Terrier
Yorkshire terrier
Yorkshire Terriers were bred in 19th century in England from a mixture of Scottish Terriers: Clydesdale, Skye, Paisley and Waterside Terriers, where they were used by miners near Yorkshire to catch mice and rats. Over the years they were bred smaller, soon becoming the most popular pets. The popularity among the fashionable pets is still increasing.

In the Czech Republic, only the classical coat colour, i.e. blue and tan is recognised.  However, other colour variants became very popular among breeders such as Golden and Choco Yorkshire, or Biewer Yorkshire, a breed which has been already recognised abroad.
Biewer Yorkshire Terrier

The Biewer Yorkshire Terrier was developed by Gertrud and Werner Biewer in Germany in 1984. The specific appearance (intermingled with white strips) of Biewer is caused by recessive black-and white gene. The parents of the first Biewer Yorkshire were "Darling of Friedheck" and "Frufru of Friedheck. The Biewers found this small dog with white markings so extraordinary lovely so that they decided to continue in the selective breeding.  
Biewer Yorkshire Terriers are recognised and exhibited in various countries, but they are most popular in the United States. ACR (American Canine Registry) has established a Biewer Yorkie Association in 2003 and prepared breed standard and other particularities required for recognition of Biewer Yorkies as a breed.

The Golddust Yorkshire Terrier was developed in Germany and was originally called "Biewer White Gold". In 2007, it was recognized as a separate breed with own standard thanks to the commitment of the breeder Kirsten Sanchez-Meyer.

Biro Yorkshire Terrier was developed in Germany and has also its own standard; the only difference from the Biewer is in coloration.

In the Czech Republic, no other variant beside the classical Yorkshire Terrier has not been recognised so far. The breeding of Biewer Yorkshire Terriers and other colour variants is supported worldwide by UCI (Union Cynologie International) and other international and German clubs.
From 2007, AKC (American Kennel Club) has registered all colour variants, such as "particolor" Yorkies.

Genomia laboratory does not perform tests for locus S responsible for white markings in Biewer Yorshire Terriers. The most of Yorkshire Terriers have a combination atat in locus A. To find out the potential carrier of the brown or golden colour, tests for locus B and locus E are recommended.
Blue and tan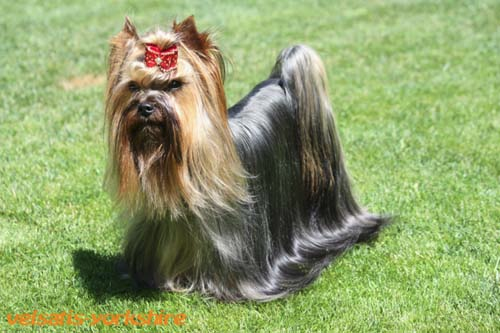 loc B: B/B nebo B/b
loc E: E/E nebo E/e
loc D: D/D nebo D/d
.
Golden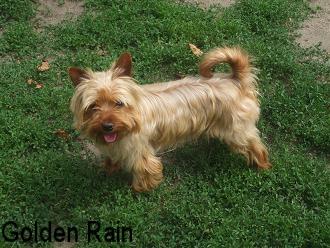 loc B: B/B nebo B/b
loc E: e/e
.
Choco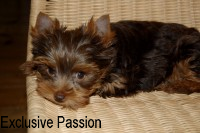 loc B: b/b
loc E: E/E nebo E/e
.
Biewer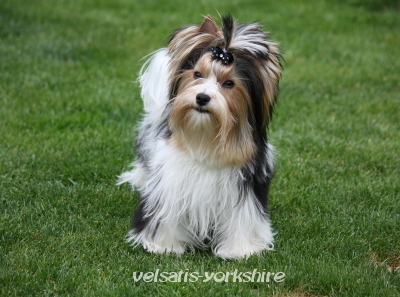 loc S (whitte spottings): spsp
loc B: B/B nebo B/b
loc E: E/E nebo E/e
.
Golddust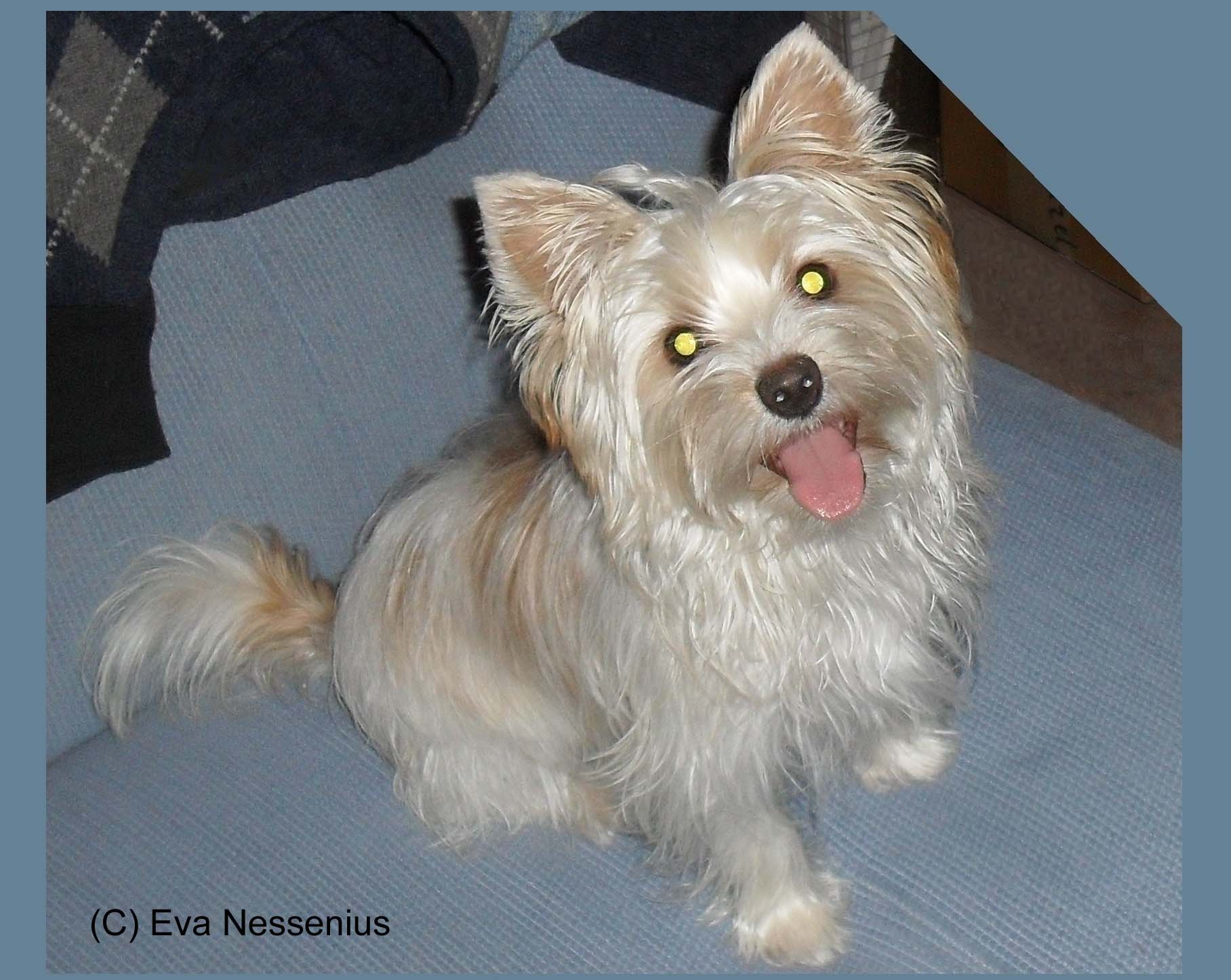 loc S (whitte spottings): spsp
loc B: B/B nebo B/b
loc E: e/e
.
Biro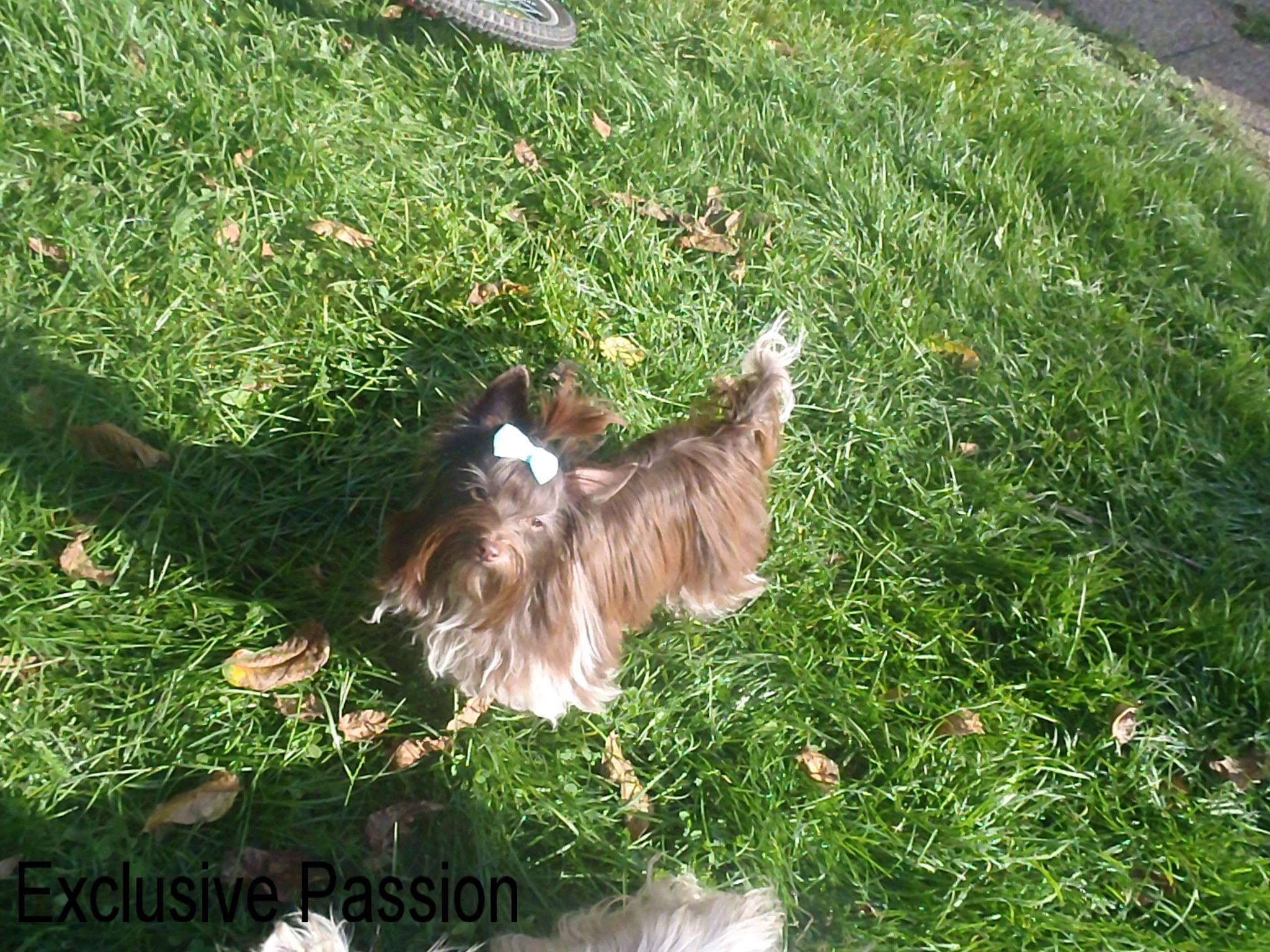 loc S (whitte spottings): spsp
loc B: b/b
loc E: E/e nebo E/E