Poodle
Coat colors in Poodles
Just a few dog races offer such various spectrum of coat colors and size variants like poodle. Poodles are divided into four basic size variants in withers:
Toy poodle is 24-28 cm high
Dwarf poodle is 28-35 cm high
Miniatur poodle is 35-45 cm high
Standard poodle is between 45-58 cm high.
There are three original poodle coat colors - black, brown and white. Newly, silver and apricot color variants are recognized. These new colors were despised by France (poodles county of origin), nevertheless they were very popular in the rest of the Europe. In DFS Crufts 1966 show an apricot coat color poodle was a winner, although France kept admitting this color variant as a standard. Interesting new colors becomes readily very popular within French breeders and finally new colors were officially accepted as a standard coloring.
Except color variants mentioned above, there are also black-and-tan and Harlequin color variants. Dogs of these colors are presented in dog shows among FCI unaccepted breeds.
Desirable coloring is single colored coat without any conversions to lighter or darker tints. Poodles with black, white or silver coat color have black pigmentation on the nose, lips and around eyes. They have dark claws and also very dark eyes. Brown and apricot poodles have red-brown color of nose, lips and around eyes. Brown poodles have dark colored claws and dark-amber eyes. Apricot poodle can also have dark-amber eyes, but it is undesirable.
Final coat color can be also influenced by color dilution (locus D, I, G). Exact influence of these loci to final coat color has not been clarified yet.
.
| | | |
| --- | --- | --- |
| Genotype | Coat color variant / Nose color | Carrier of colour |
| EEBB | black / black | - |
| EEBb | black / black | brown |
| EeBB | black / black | light |
| EeBb | black / black | light and brown |
| EEbb | brown / brown | - |
| Eebb | brown / brown | light |
| eeBB | light (red) / black | - |
| eeBb | light (red) / black | brown |
| eebb | light (red) / brown | - |
.
Examples of coat colors in Poodles: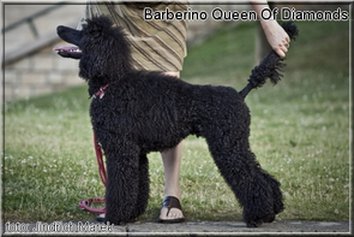 .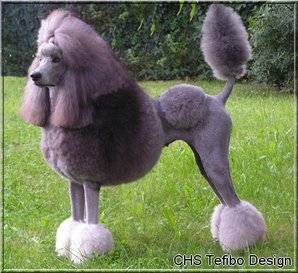 .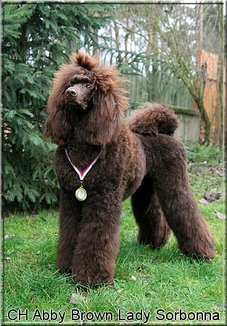 .
white poodle (there is no genetic test for white color available)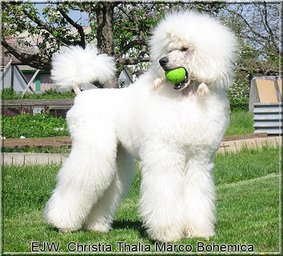 .
In case of poodle breed, we recommand E,B loci and eventually locus D for examination. All mentioned loci are tested by Genomia laboratory. For detail informations please follow: