Testing of dogs: Chlamydophila spp.
Usual turnaround time: 5 business days
1 test price: 34.00 $ without VAT
Detection of Chlamydophila spp. by RT-PCR method

Chlamydia (Chlamydiae) is an intracellular parasite occurring in humans and many kinds of animals. Chlamydia has not its own ATP system and it uses the ATP of the host cell for its metabolic processes and therefore is also called energy parasite.
Chlamydia life cycle
Chlamydia are characterised by a unique growth cycle which includes an infectious elementary body (EB) and a reticular body (RB). The elementary body is metabolically inactive and does not replicate; it attaches to a susceptible host cell, by which it is taken up by a process similar to receptor-mediated endocytosis. The entire life cycle occurs within a pouch called an endosome. The endosome increases due to the repeated replication and can be seen morphologically in the affected cell as so-called inclusion. After several hours upon entering the cell, the EB transforms into a larger non-infectious, but metabolically active reticular body. The reticular body replicates by binary fission and reorganizes into infectious EBs. The length of the life cycle depends both on the chlamydia strain and the host cell. It usually takes 48-72 hours. The Chlamydia life cycle usually ends by cell lysis or extrusion of infectious elementary bodies. Intact inclusions are sometimes expulsed from the cell by exocytosis, which also takes place during release of infectious bodies in case of chronic infections.
Taxonomy
Former, the family Chlamydiaceae included only one genus Chlamydia with four species: C. trachomatis, C. psittaci, C. pneumoniae and C. pecorum. On the basis of ribosomal RNA-analysis, the system (taxanomy) has been reorganised, some species has been renamed and some C. trachomatis and C. psittaci have been reclassified as new species. Today, the family Chlamydiaceae includes two genera:
the genus Chlamydia (C.) with classified species C. trachomatis, C. suis and C. muridarum
the genus Chlamydophila (Ch.) which includes the species Ch. pneumoniae, Ch. psittaci, Ch. abortus, Ch. pecorum, Ch. felis and Ch. caviae.
Diagnostics
The spectrum of diagnostic methods includes a number of techniques for direct proof of infectious agent (e.g. PCR, cultivation methods) and indirect proof by serological methods (e.g. ELISA, proof of antibodies by immunofluorescence). The Genomia laboratory performs direct determination of Chlamydophila in a sample by real-time PCR method. It is a highly sensitive and reliable method that detects the presence of DNA of Chlamydophila.
To diagnose the infection caused by Chlamydophila, ocular swabs are generally used. A correct technique of taking swabs from eyes is very important for examination by PCR method. Since the Chlamydophila is an intracelullar microorganism, it is important to obtain conjunctival swabs containing a sufficient number of conjunctiva cells.  Chlamydophila can be also proven in vaginal, rectal swabs, from aborted fetal tissues. These samples are seldom used for diagnostic purposes.
Result report preview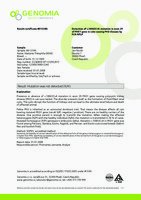 Breed list
Usual turnaround time: 5 business days
1 test price: 34.00 $ without VAT