Hyene Spotted hyena – sex determination
Usual turnaround time: 10 business days
1 test price: 52.00 $ without VAT
Spotted hyena – sex determination
The spotted hyena (Crocuta crocuta) is spread throughout the whole Sub-Saharan Arica and further to the south. It occurs frequently in East Africa and in some regions of South Africa has been wiped out. The spotted hyenas live in semi-deserts, savannahs und mountain ranges in the height of 4000 in altitude. It is absent in tropical rainforests and in Central Africa.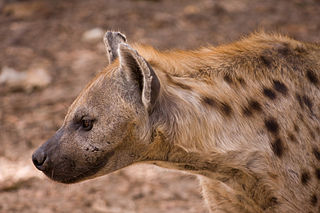 photo:
Ikiwaner, wikipedia.org
The females are characterized by extreme masculinization and the female spotted hyenas are the only species among the mammalian species to lack an external vaginal opening. The visual determination of sex of young spotted hyenas is almost impossible; the gender in hyenas can be distinguished after parturition, when a very large scar can be seen.
The female spotted hyenas urinate, mate and give birth through the clitoris that resembles by its shape and size the erectile male penis. The similarity to the male genitals goes so far that the females even have a false scrotum filled with connective and fatty tissues. The females have very high androgen level supporting the male features, particularly the aggressive behaviour.
As the females have fused labia, the clitoris swells and enlarges up the tree times before the parturition. Few minutes before the parturition, the clitoris ruptures along its length in order to facilitate the passage of young. Parturition is difficult and causes great complications: 9-18% of primiparous female hyenas die giving birth to their first offspring. The mortality of young ones is also high: Up to 2/3 of the young hyenas suffocate in the clitoris.
The special social system of hyenas, where the females are dominant to adult males, is connected with the extreme masculinization of the female hyenas. The most of female hyenas in the clan are greater than its greatest male; the clan is led by its dominant female. The aggressive behaviour is present everywhere. The extreme aggressiveness begins immediately after birth, when the cubs must fight for the access to the breast milk. The gestation period is relatively long and the cubs are born big, movable and with erupted teeth. The cub of a dominant female in the clan inherits its social position.
The Genomia laboratory determines the sex of hyenas by a quick and effective method - RFLP analysis of ZFX and ZFY genes.
Literature:
M. Schwerin and C. Pitra: SEX DETERMINATION IN SPOTTED HYENA (Crocuta crocuta) BY RESTRICTION FRAGMENT LENGTH POLYMORPHISM OF AMPLIFIED ZFX/ZFY LOCI; Theriogenology 41:553-559, 1994
Stephen E. Glickman et al: Mammalian sexual differentiation: lessons from the spotted hyena; TRENDS in Endocrinology and Metabolism Vol.17 No.9, 2006
Aaron P. Wagner et al.: Transient genital abnormalities in striped hyenas (Hyaena hyaena); Hormones and Behavior 51 (2007) 626-632
Jan Zrzavý, David Storch, Stanislav Mihulka: Jak se dělá evoluce (How evolution happens), Paseka, 2003
Result report preview

Usual turnaround time: 10 business days
1 test price: 52.00 $ without VAT