Testing of dogs: MC in Australian Cattle Dogs and Border Collies
Usual turnaround time: 10 business days
1 test price: 56.00 $ without VAT
Related tests
Congenital Myotonia in Australian Cattle Dogs and Border Collies
Congenital myotonia (MC) is an inherited disorder characterized by delayed skeletal muscle relaxation after contraction. The predominant symptoms include stiff gait and skeletal muscle hypertrophy. Affected dogs breathe loudly, have difficulty swallowing and ptyalism (excessive salivation) beginning around 2 to 3 months of age.
The disease belongs to the so-called channelopathies, i.e., it is caused by a mutation in the gene encoding an ion channel in a muscle fibre. These genes encode proteins that determine the ionic conductance by "opening" and "closing". Congenital myotonia in Australian hounds and Border Collies is caused by mutation c.2647_2648insA in the CLCN1 gene, encoding a voltage-dependent chloride channel of skeletal muscle. These channels are unable to fully open and there is a resultant delay in muscle fibre relaxation after termination of the action potential.
The mode of inheritance of the mutation is autosomal recessive. This means that only individuals who inherit the mutated gene from both parents will develop the disease. Carriers of the mutated gene are clinically healthy but pass the mutation on to their offspring. In the case of a mating between two heterozygous individuals, theoretically 25% of the offspring will be completely healthy, 50% of the offspring will be carriers and 25% of the offspring will inherit the mutated gene from both parents and will therefore be affected by the disease.
The genetic test can clearly reveal the genotype of the animal and is a useful tool for breeders to prevent unintentional breeding of affected puppies.
.
References:
Finnigan, DF., Hanna, WJ., Poma, R., Bendall, AJ. : A novel mutation of the CLCN1 gene associated with myotonia hereditaria in an Australian cattle dog. J Vet Intern Med 21:458-63, 2007. Pubmed reference: 17552451.
Result report preview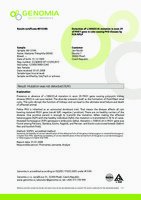 Breed list
Usual turnaround time: 10 business days
1 test price: 56.00 $ without VAT