Testing of dogs: NCL12
Usual turnaround time: 10 business days
1 test price: 56.00 $ without VAT
Related tests
NCL12 in Australian Cattle Dogs
The NCL is a group of inherited heterogeneous neurodegenerative diseases that occur in various mammalian inclusive dogs, cats, and humans. In some animals, the causal mutation leading to NCL has not been found and described so far. In connection with NCL in animals and humans, several mutations in different genes have been described and each of these mutations in a certain gene causes a unique NCL-form.  NCL occurs in several dog breeds, e.g. Border Collie, English Setter, American Bulldog, Dachshund, Polish Lowland Shepherd or Tibetan Terrier.  In Australian Cattle Dog, NCL of type 5 with an onset of clinical signs at age of around 1 year and NCL of type 12 with late onset have been identified.
NCL is characterized by accumulation of lipid-like storage material (ceroid and lipofuscin) in nerve cells. The presence of the large deposits of lipofuscin and the increasing pressure cause destruction of the nerve cell in cortex and cerebellum and the retina.
The symptoms of this disease seem to be very variable, even within one breed. The affected dogs exhibit at least four of the following progressive neurological clinical symptoms: loss of vision, behavioural changes, cerebellar ataxia, tremors, decline of cognitive and motor functions, sleep disturbance and seizures.  NCL includes neurological symptoms such as disorientation, states of anxiety and aggressive behaviour and problems with food intake. The onset and clinical course of the disease are variable and individual. The degree of neurodegeneration increases with the age and mental abnormalities and spasm occur in all affected individuals. Changes in gait and posture can be observed – stumbling gait, limb stiffness. As there is no cure for this disease, it ultimately leads to death or euthanasia of the affected dog.
The NCL12 in Australian Cattle dog is caused by a missense mutation ATP13A2: c.1118C>T. It is a mutation in ATP13A2-gene encoding a transmembrane protein that moves ions across a biological membrane that ensures correct function of lysosomes.  This variant of the disease has a late onset of clinical symptom and that at the age of approximately six years.
Genetic tests are a reliable indicator of this disease and may help responsible breeders eliminate production of affected puppies.
.
References:
Schmutz, I., Jagannathan, V., Bartenschlager, F., Stein, V.M., Gruber, A.D., Leeb, T., Katz, M.L.: ATP13A2 missense variant in Australian Cattle Dogs with late onset neuronal ceroid lipofuscinosis. Mol Genet Metab 127:95-106, 2019. Pubmed reference: 30956123
Result report preview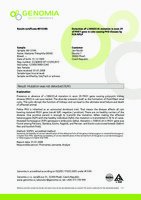 Breed list
Usual turnaround time: 10 business days
1 test price: 56.00 $ without VAT